[Jeu de temps / Times Play 2023]
Prizewinners and Thematic Award Recipients
24th Jeu de temps / Times Play
Results | Artists and Submissions | Events | Awards | Jury
For each edition of JTTP, a broad and diverse international jury takes on the task of judging all submissions to the project. The creators of the top five selected works receive prize packages. Cash prizes are given to the first-, second- and third-place prizewinners, and to the thematic award recipients. JTTP Project Partners, Donors and Media Partners are listed on the Prizes and Awards page.
Over the course of the 2023–24 year, the selected works from JTTP 2023 (below) are presented in several Events, Concerts and Radio Broadcasts coordinated in collaboration with JTTP Media Partners. On the Artists and Submissions page you can listen to all works submitted to this year's edition of JTTP and read the programme notes and artist biographies.
Biographies and Programme Notes
Mimi Allard • Jules Bastin-Fontaine • Julie Delisle • Émile Gingras & José-Gabriel Bazán-Gauthier • Kristian North • Parisa Sabet Sarvestani
Mimi Allard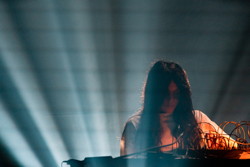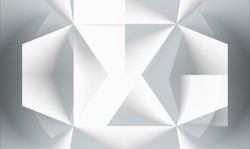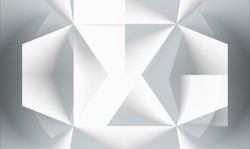 JTTP 2023 Fifth Prize winner and recipient of the JTTP 2023 Jean Piché Award for videomusic, new media and creative coding.
Mimi Allard is a sound artist whose practice lies at the intersection of experimental, improvised music and audio art. Interested in deconstructing and reshaping sonic matter, she weaves together [re]synthesized sounds and modified audio recordings. Sometimes sculptural, sometimes immersive, her sound universe places particular emphasis on the spectral qualities of sound, exploring the points of friction between tuning and ambiguity. Interweaving chance and prediction, her work invites one toward depths of perception and states of [sub]liminality, hoping to allow somatic and cognitive dimensions to intersect fruitfully. In addition to performance, her solo and collaborative work in composition and sound design has been disseminated in various academic, artistic and cinematic contexts.
Fleur de papier fleur de métal (2023 / 6:21)
Fleur de papier fleur de métal is a multi-channel electroacoustic composition that explores gestural and textural articulations evoking the folding of paper and metal. Composed in parallel to a visual representation of giant origami pieces, this "sculptural" sound adventure alternates between the two materials until they finally intermingle. The piece is composed with modular, modal and granular synthesis, as well as Foley and audio recordings that have undergone various stages of processing and layering. Other layers were performed live, following the movements of the animated forms. The slowly evolving piece draws attention to the texture of the materials, while realistic sounds are gradually deconstructed and reshaped into new sonic matter.
Jules Bastin-Fontaine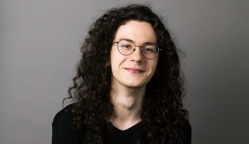 JTTP 2023 Second Prize winner.
Jules Bastin-Fontaine is a Montréal-based composer and tuba player. During his collegiate studies in tuba, he studied composition with Yannick Plamondon in Quebec City. In 2022, at the Conservatoire de musique de Montréal, he completed undergraduate degrees in both disciplines in the classes of Jimmie LeBlanc (composition) and Pierre Beaudry (tuba). He is now pursuing a master's degree in instrumental composition with Maxime McKinley and an undergraduate degree in electroacoustic composition with Louis Dufort. His music has won two prizes in the SOCAN Foundation Awards for Young Composers and has been performed by the Ensemble contemporain de Montréal (ECM+) and Ensemble Paramirabo, among others. [Jules Bastin-Fontaine's Sonus profile]
Composition acousmatique 1 (2023 / 24:48)
Composition acousmatique 1 brings together instrumental sounds and articulatory material in a large-scale form that explores various perspectives on their interactions. Thanks to flutist Florence Laurain and percussionist Aurélien Becht for agreeing to be recorded for this work.
Julie Delisle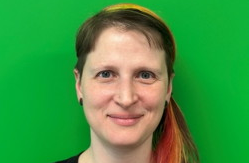 JTTP 2023 First Prize winner.
Julie Delisle is a composer, multidisciplinary researcher specialized in audio technology and flutist. They studied at the Hochschule für Musik Freiburg and at the Conservatoire de musique de Montréal, earned a doctorate (PhD) in musicology from the Université de Montréal, and was a postdoctoral fellow at the Music Perception and Cognition Laboratory (McGill University). Their music is influenced by their research work on instrumental timbre, and their interest in sound design, Chinese martial arts and mathematics. [Julie Delisle's Sonus profile]
Pipa aura Suichi (2023 / 11:03)
Pipa aura Suichi was entirely composed with sounds from Jean-François Laporte's instruments (Productions Totem Contemporain). It appeared to me that the materials I had chosen for the piece, thanks to their articulatory properties, presented behaviours that often lead to chain reactions. The sounds, taken outside their instrumental context in a kind of schizophonia, follow a peculiar temporality that is deployed through triggers, attacks, resonances and propulsions, in a similar manner as the incredible machines of the Japanese TV show Pitagora Suichi.
Émile Gingras & José-Gabriel Bazán-Gauthier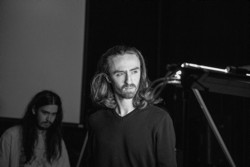 JTTP 2023 Third Prize winners and recipients of the JTTP 2023 Martin Gotfrit and Martin Bartlett Award for live electroacoustic practices.
The multidisciplinary duo llAMKAll (pronounced Yamkaïy) is the project of José-Gabriel Bazán-Gauthier and Émile Gingras-Therrien, both composers, performers and visual artists from Montréal. Mixing a harsh yet subtle soundscape with complex visuals in constant evolution, llAMKAll's performances have more in common with the ambiance of shows given in bars than with the restrictive traditions of concert halls. In this sense, the project maintains a punk ethos, a DIY approach to creation, inclusive and progressive values with emphasis placed on sharing and, most importantly, on disobedience. This new duo is by no means its definitive form; rather it evolves with every performance, as much in its instrumentation as with its visual components. For the two Montréal concerts given in spring 2023, llAMKAll had the immense opportunity to work with the extraordinary saxophonist Guy Lavoie. The duo already has plans for new performances next year in North America and in Europe with new guest appearances and even more frantic material.
Émile Gingras-Therrien is a Montréal-based author, composer and performer working in various spheres of the Montréal scene. His compositional projects revolve around mixed music, improvisation and collective creation. Equally passionate about popular music, he is involved in a number of rock, hip-hop and folk projects, including his own Couetté, a blend of folk rock and electro that serves as an outlet for his love of Québécois singer-songwriters. In his llAMKAll project, he and his friend and colleague José-Gabriel Bazán-Gauthier work on experimental, spontaneous and socially engaged audiovisual art, both in terms of subject matter and sound and visual æsthetics. After graduating from the Université de Montréal in 2024 with a bachelor's degree in mixed composition, Émile's goal is to multiply his artistic projects and carve out a place for himself in the Montréal art scene.
José-Gabriel Bazán-Gauthier is a multidisciplinary artist thriving in Montréal's extreme metal and experimental music scenes. He creates dark and enigmatic universes through narratives that blend the senses. Lights, projections, photography, music and sound are all to be found within the audiovisual experiences he designs. Although some of his works have been for performers other than himself, he mostly performs his own works; this allows projects to come together more freely and opens them up to the possibility of improvisation. José-Gabriel has most recently joined forces with his friend and colleague Émile Gingras-Therrien. Together they created llAMKAll, an impolite post-polystylistic music duo with the objective to overthrow established mediums of creation.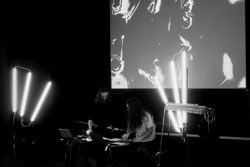 Fumigènes (2023 / 16:05)
Signal de fumée lacrymo,
Mosh pit au son des sirènes,
Dans cette belle déraille,
Un échappatoire fumigène.
With Guy Lavoie on saxophone.
Kristian North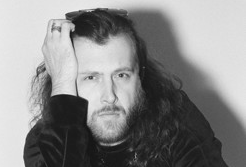 Recipient of the JTTP 2023 Hildegard Westerkamp Award for soundscape and sound installation.
Kristian North is a musician and composer who lives and works in Tio'tia:ke / Montréal. His practice is informed by a fascination with philosophy, systems and perception. Recent works include multi-channel soundscape compositions, audiovisual performances, generative music and digital ecosystems. He is currently finishing his degree in electroacoustic composition at Concordia University. [Kristian North's Sonus profile]
Remiges (2023 / 6:19)
Remiges (flight feathers) is a soundscape composition centred around the haptic wing sounds of birds. It is inspired by a personal experience that took place on a hike in the Antioquia department of Colombia.
Parisa Sabet Sarvestani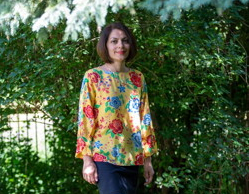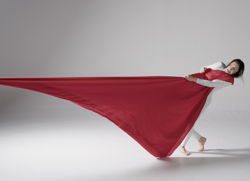 JTTP 2023 Fourth Prize winner and recipient of the JTTP 2023 Micheline Coulombe Saint-Marcoux Award for self-identified female or non-binary electroacoustic artists.
Imagination, innovation and storytelling are at the centre of Parisa Sabet Sarvestani's creative practice. With a musical language that is equally modern and accessible, inspired by her Iranian roots, Western education and passion for socially engaged arts, she aims to engage in cultural dialogue with diverse communities. Her sonic landscapes evoke emotions, conjure images and tell stories, often about pressing social issues. Her most recent interdisciplinary work, Silent, was inspired by the Black Lives Matter movement in Toronto. Sabet earned a Doctor of Musical Arts, a Master of Music in composition and a Master of Music Technology and Digital Media from the University of Toronto, with distinctions including the Mirkopoulos and Miller/Khoshkish fellowships, and the Tecumesh Sherman Rogers Graduating Award, the latter given to a musician on the cusp of making important contributions to the field. Among her teachers she counts Christos Hatzis, Keith Tedman, Kyong Mee Choi, Ka Nin Chan and Stacy Garrop. [Parisa Sabet Sarvestani's Sonus profile]
Silent (2022 / 8:00)
Silent is a multimedia composition for clarinet, cello, piano, soprano, tenor, audio playback, dance and visuals commissioned by Toronto's Charsu Quartet. This media-music-performance work is inspired by "The Wind-up Doll", a poem by the influential Iranian poet, Forugh Farokhzad (1934–1967).