[Jeu de temps / Times Play 2023]
Artists and Submissions
24th Jeu de temps / Times Play
Results | Artists and Submissions | Events | Awards | Jury
The JTTP project is unique in that it recognizes and advocates the work of all artists who have participated in it. Through this inclusive initiative, JTTP 2023 offers continued support and promotion to an important and growing number of young and emerging electroacoustic artists.
In this year's edition, 37 artists and 34 works from or living in Canada and Latin America are represented; programme notes and artist biographies for each work can be found below. 1[1. Click in the list of artists to jump to individual JTTP 2023 submissions; click the audio/video files to the right of the work information to play.] Thanks to the collaboration of our many Media Partners, works from this year's edition are featured in a number of Events, Concerts and Broadcasts throughout the year.
The prizewinning works and thematic award recipients — as selected by an international jury — are profiled on a dedicated Results page. An overview of the ample prize packages offered to these artists, as well as a list of this year's Donors, Project Partners and Media Partners, can be found on the Prizes and Awards page.
Artists
Submissions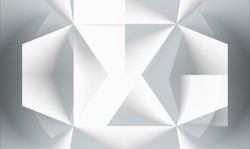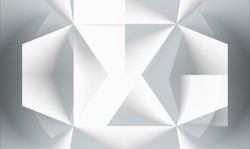 Mimi ALLARD — Fleur de papier fleur de métal (video — 6:21 / 2023)
Fleur de papier fleur de métal is a multi-channel electroacoustic composition that explores gestural and textural articulations evoking the folding of paper and metal. Composed in parallel to a visual representation of giant origami pieces, this "sculptural" sound adventure alternates between the two materials until they finally intermingle. The piece is composed with modular, modal and granular synthesis, as well as Foley and audio recordings that have undergone various stages of processing and layering. Other layers were performed live, following the movements of the animated forms. The slowly evolving piece draws attention to the texture of the materials, while realistic sounds are gradually deconstructed and reshaped into new sonic matter.
Mimi Allard is a sound artist whose practice lies at the intersection of experimental, improvised music and audio art. Interested in deconstructing and reshaping sonic matter, she weaves together [re]synthesized sounds and modified audio recordings. Sometimes sculptural, sometimes immersive, her sound universe places particular emphasis on the spectral qualities of sound, exploring the points of friction between tuning and ambiguity. Interweaving chance and prediction, her work invites one toward depths of perception and states of [sub]liminality, hoping to allow somatic and cognitive dimensions to intersect fruitfully. In addition to performance, her solo and collaborative work in composition and sound design has been disseminated in various academic, artistic and cinematic contexts.
Devin ASHLEY — Whale Song (3:02 / 2022)
Whale Song, a three-movement sound composition, consists of a slowly evolving textural atmosphere constructed using field recordings and virtual software instruments, primarily those emulating the sounds of ritual healing bells, string instruments and volcanic rocks. Gestural elements were then superimposed to give depth, movement and narrative to the composition. The result is an attempt to create an underwater soundscape based on the theme of submersion and resurgence.
Devin Ashley is an electroacoustic artist based in Montréal. His creative focus is currently centred around the development of multi-channel electroacoustic compositions and atmospheric environments that make use of field recordings, synthesized sounds, noise and voice. His creative objective is to create hypnotic listening experiences by building up layers of textural sounds that gradually evolve into a drone-like ambience while utilizing gestural elements of contrasting characteristics and spatial positioning to keep listeners continuously engaged.
Jules BASTIN-FONTAINE — Composition acousmatique 1 (24:48 / 2023)
Composition acousmatique 1 brings together instrumental sounds and articulatory material in a large-scale form that explores various perspectives on their interactions. Thanks to flutist Florence Laurain and percussionist Aurélien Becht for agreeing to be recorded for this work.
Jules Bastin-Fontaine is a Montréal-based composer and tuba player. During his collegiate studies in tuba, he studied composition with Yannick Plamondon in Quebec City. In 2022, at the Conservatoire de musique de Montréal, he completed undergraduate degrees in both disciplines in the classes of Jimmie LeBlanc (composition) and Pierre Beaudry (tuba). He is now pursuing a master's degree in instrumental composition with Maxime McKinley and an undergraduate degree in electroacoustic composition with Louis Dufort. His music has won two prizes in the SOCAN Foundation Awards for Young Composers and has been performed by the Ensemble contemporain de Montréal (ECM+) and Ensemble Paramirabo, among others.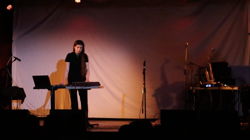 Marie Anne BÉRARD — Solace (video — 17:00 / 2023)
Solace. A source of comfort, consolation, the action of moving towards this state.
This performance is an attempt at a journey towards solace, both for the musician and for the audience. Understanding the soundscapes of others allows us to reflect ourselves in our own, to mineralize ourselves in it, sheltered from the end of the world.
Solace was composed with the intention of being performed in retirement homes.
Marie Anne Bérard [she/her] is a composer and performer, currently studying electronic music at the Université de Montréal. Her practice is based on real-time audio processing and the use of audio diaries as a compositional method. She also interested in music mediation of electronic music. With funding from the Observatoire international de création et de recherche en musique (OICRM) and the Observatoire des médiations culturelles (OMEC), she is currently doing a master's degree on the effects of music mediation on electronic musicians. She is a member of the student laboratory of the Étude partenariale sur la médiation de la musique (EPMM) to continue her research on music mediation. For her performance Éphémérides (2021) she received the Martin Gotfrit and Martin Bartlett Thematic Award in the 22nd Jeu de temps / Times Play (JTTP) competition.
Luke BLACKMORE — Pilotis (4:15 / 2023)
Pilotis is a fixed electroacoustic remix of an upcoming work for octet and electronics. The work relies on the manipulation of highly detailed recorded materials — in this case extended saxophone techniques — that are layered, expanded and otherwise messed with in order to produce a range of sonic environments. The title is an architectural term used to describe pillars or columns that support a structure above ground level, providing an open space below the structure. The work explores the idea of simultaneous elevation and grounding, and alludes to the contradiction between form and æsthetics that defines much modern architectural writing.
Luke Blackmore is a composer, saxophonist and improviser from St. John's, Newfoundland and Labrador. He currently studies composition with a minor in Jazz at Memorial University in St. John's. Luke's composition portfolio contains a wide range of acoustic, electronic and acousmatic pieces, utilizing a wide variety of sources, from found sound to synthesized sound, as well as live sound manipulation. He has written for the International Institute for Critical Studies in Improvisation, the Newfound festival and others.
Alexis BLAIS — animal_farm (10:18 / 2022)
During the composition of animal_farm, I had the desire to explore time scales still non-existent in my music by manipulating preparatory montages and derivations thereof in increasing density in order to transform and develop the materials of the piece. The work also reveals the imperfection of human gestures through the incorporation of MIDI performances during the editing phase. The esotericism of its approach sows ruptures and surprises, like so many false leads in its labyrinthism. Composed in a tense, anxious context, animal_farm seems to want to ask the simplest questions possible, without, however, managing to answer them completely.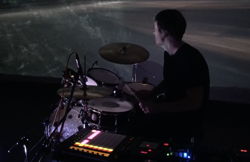 Samuel BOBONY — Perturbation (video — 13:15 / 2023)
Fragmented, the eternal reconstitution of a future fleeing its present. This audiovisual performance unfolds like an elusive becoming, propelled by rhythmic insistence, trapped in its loops destined to gradually redefine itself. It is only through its previously determined sectional constraints that it becomes and escapes us. Perturbation is an interactive audiovisual performance performed in real time on drums and electronics. The video is performed by means of digital translations of the strikes on three pieces of drums augmented with sensors. Different visual universes spring from the synthetic materials triggered during the performance with cyclical, ambient and explosive aspects.
Samuel Bobony is a sound artist, musician and composer who develops ways of interacting and bringing together sometimes heterogeneous sound universes composed of concrete and synthetic sounds, soundscapes and acoustic and artificial drum sounds. Known under his pseudonym Black Givre (solo project created in Montréal in 2012), he has produced several albums that he has performed in front of audiences at festivals and on tours, notably in Canada, the United States, France, Germany, Poland, Denmark and Norway.
Julie DELISLE — Pipa aura Suichi (11:03 / 2023)
Pipa aura Suichi was entirely composed with sounds from Jean-François Laporte's instruments (Productions Totem Contemporain). It appeared to me that the materials I had chosen for the piece, thanks to their articulatory properties, presented behaviours that often lead to chain reactions. The sounds, taken outside their instrumental context in a kind of schizophonia, follow a peculiar temporality that is deployed through triggers, attacks, resonances and propulsions, in a similar manner as the incredible machines of the Japanese TV show Pitagora Suichi.
Julie Delisle is a composer, multidisciplinary researcher specialized in audio technology and flutist. They studied at the Hochschule für Musik Freiburg and at the Conservatoire de musique de Montréal, earned a doctorate (PhD) in musicology from the Université de Montréal, and was a postdoctoral fellow at the Music Perception and Cognition Laboratory (McGill University). Their music is influenced by their research work on instrumental timbre, and their interest in sound design, Chinese martial arts and mathematics.
Snow DIAO — The Heart of the City (3:47 / 2022)
The Heart of the City was inspired and created by the noises that are always around us — in the room, outside on the street, on the bus, on the Vancouver Skytrain… They are everywhere in our life; they comprise an important part of the sound world in which we live.
Snow Diao is currently an undergraduate student at the University of British Columbia (Vancouver), studying composition, music technology and piano. Diao also enjoys playing percussion and cello, and intends to learn more instruments as part of her studies pursuit of a career in music.
Cam ELKIN — Starship; Delusion (3:07 / 2022)
Created entirely with sounds created and automated on the Arturia MicroFreak, Starship; Delusion is Big Frog's first creative electroacoustic piece.
Alanah ELLSWORTH — Spider's Dance (3:15 / 2022)
When composing Spider's Dance, I took the approach of creating acousmatic music in the style of Francis Dhomont's "cinéma pour l'oreille". The piece is largely built on clicking and buzzing sounds, which I often associate with insects. It's a moment in a spider's day: as it flees the sounds of terrified humans, it seeks a safe place to spin its web. After spinning some silk, it lies in wait for prey. The spider's patience is rewarded with a hearty meal, after which it is content to stay in the darkness.
Alanah Ellsworth is a multidisciplinary artist based in West Vancouver. A classically trained vocalist, she received her Bachelor of Music from the University of British Columbia in 2023. Her performance experience includes several prestigious choirs, the UBC Opera Ensemble and a leading role in Players and Singers' 2019 production of Benjamin Britten's The Little Sweep. She is also a trained audio engineer, graduating in 2022 from the SAE Institute Canada (School of Audio Engineering, Vancouver) and working with local studios, producers and artists. Alongside musical projects, she is passionate about motion picture sound and spends much of her free time recreating film scenes in her home studio.
Audréanne FILION — Lustrum (12:00 / 2023)
Lustrum is built around temporal contrasts and meanders. Inspired by the concepts of rhizome, connectivity and open work, its development is non-linear and does not move towards a precise culminating point but is rather intended as a wandering through several different tableaux presenting various ways of articulating the same matter.
Montréal composer and cellist Audréanne Filion obtained her artist's diploma in cello performance at the Conservatoire de musique de Montréal and is currently completing a certificate in electroacoustic composition at the same institution. Having a great interest in contemporary music and improvisation, the musician cofounded the Tesse Ensemble, a sextet co-creating original new works using improvisation techniques. With a passion to combine different forms of art, she has participated in several multidisciplinary creation projects, for instance, she presented pieces for dancers notably at Jardin des Métis in 2022 and at the Women Between Arts series in New York in 2018. Also active on the experimental pop scene, Audréanne performs with various groups, notably Crushhh, and collaborates with a range of electronic music artists such as YlangYlang, Jessica Moss and Kid Koala.
Pablo GEERAERT — --OFF (10:14 / 2023)
—OFF is a kinetic and sensorial work that articulates a constructed discontinuity. The piece exists within an atrophied discourse where ideas are never entirely developed. —OFF leaves behind an aftertaste, a charming frustration: it doesn't feel finished, and yet the energetic discourse is constant, leaving no room for momentary interpretation. The work doesn't end with its last sound, placing the listener in a situation of temporal discomfort. Thus, the discourse becomes as experiential as musical.
Pablo Geeraert is a Belgian composer born in Brussels and currently based in Montréal. He explores composition as a means to discover and experience the complex yet exciting dimensions that music can offer. Influenced and fascinated by a wide variety of sonic discourses, his music tries to blend them into kinetic and evolving narratives, focusing on sculpting a contrast between the sound materials to evoke images and reactions. Interested in multidisciplinary practices, the aspects found in other arts such as dance and the visual medias also fuel his inspiration and motivation to broaden his understanding of music. Having recently graduated with BFAs in Music Production (BIMM Berlin) and in Electroacoustic Studies (Concordia University), he is about to enter a master's degree in Electroacoustic Composition at the Conservatoire de Montréal to further discover and define his artistic identity.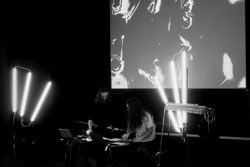 Émile GINGRAS, José-Gabriel BAZÁN-GAUTHIER — Fumigènes (video — 16:05 / 2023)
Signal de fumée lacrymo,
Mosh pit au son des sirènes,
Dans cette belle déraille,
Un échappatoire fumigène.
With Guy Lavoie on saxophone.
The multidisciplinary duo llAMKAll (pronounced Yamkaïy) is the project of José-Gabriel Bazán-Gauthier and Émile Gingras-Therrien, both composers, performers and visual artists from Montréal. Mixing a harsh yet subtle soundscape with complex visuals in constant evolution, llAMKAll's performances have more in common with the ambiance of shows given in bars than with the restrictive traditions of concert halls. In this sense, the project maintains a punk ethos, a DIY approach to creation, inclusive and progressive values with emphasis placed on sharing and, most importantly, on disobedience. This new duo is by no means its definitive form; rather it evolves with every performance, as much in its instrumentation as with its visual components. For the two Montréal concerts given in spring 2023, llAMKAll had the immense opportunity to work with the extraordinary saxophonist Guy Lavoie. The duo already has plans for new performances next year in North America and in Europe with new guest appearances and even more frantic material.
Émile Gingras-Therrien is a Montréal-based author, composer and performer working in various spheres of the Montréal scene. His compositional projects revolve around mixed music, improvisation and collective creation. Equally passionate about popular music, he is involved in a number of rock, hip-hop and folk projects, including his own Couetté, a blend of folk rock and electro that serves as an outlet for his love of Québécois singer-songwriters. In his llAMKAll project, he and his friend and colleague José-Gabriel Bazán-Gauthier work on experimental, spontaneous and socially engaged audiovisual art, both in terms of subject matter and sound and visual æsthetics. After graduating from the Université de Montréal in 2024 with a bachelor's degree in mixed composition, Émile's goal is to multiply his artistic projects and carve out a place for himself in the Montréal art scene.
José-Gabriel Bazán-Gauthier is a multidisciplinary artist thriving in Montréal's extreme metal and experimental music scenes. He creates dark and enigmatic universes through narratives that blend the senses. Lights, projections, photography, music and sound are all to be found within the audiovisual experiences he designs. Although some of his works have been for performers other than himself, he mostly performs his own works; this allows projects to come together more freely and opens them up to the possibility of improvisation. José-Gabriel has most recently joined forces with his friend and colleague Émile Gingras-Therrien. Together they created llAMKAll, an impolite post-polystylistic music duo with the objective to overthrow established mediums of creation.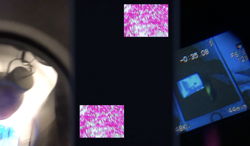 Charles HARDING, Connor COOK — Was It Always There? (video — 10:32 / 2023)
The composition of Was it Always There? began in May 2020 with a recording of a meditative tone from an unknown source, captured through the window during the early days of the Covid-19 pandemic as children played in the courtyard below. The first audible element of the piece is a gentle room tone that builds and blurs the lines between the subjective realities of listener and composition. As more materials begin to layer, the work weaves in fragments from a range of trajectories, creating a holographic array of subjective realities grounded in shared moments. It encapsulates the feedback between internal moods and external stimuli, stirred by the contrasting elation of spring life outside, newfound self-awareness and tolerance, and the sombre isolation of lockdown. Transitioning from almost objective (the room tone) to the deeply personal and surreal, it explores the rich, inner landscapes of thought and memory that we all hold within us.
Charles Harding [he/him] is an emerging sound maker living in Tiohtiá:ke / Montréal and studying electroacoustic composition at Concordia University. His current focus spans various artistic disciplines, including algorithmic composition, soundscape design, creative coding, VR/AR and, more recently, interdisciplinary collaborations in weaving and sound with the textile artist Emily Blair. He has had opportunities to showcase research, projects and collaborations involving immersive and interactive audiovisual installations at the likes of ImageFest in Colombia and Visiones Sonoras in Mexico. Through his work with technology, he always seeks to build links to nature and organic material.
Connor Cook, an Ontario and Alberta native, shifted from theatre performance to electroacoustic music, with a special interest in psychology, at Montréal's Concordia University. His work bends various mediums and practices to suit the artistic needs of the moment, blending modular and software synthesizers, real and synthetic instruments, diverse recording techniques, video and creative programming, and so on. He co-founded the Trajectories Collective during the pandemic, creating a rich panorama of multimodal art and music that responded to the circumstances. In 2022, his distinct interdisciplinary approach earned him a place in the Alan Shepard Residency at the District 3 Innovation Centre in Montréal. Following his residency, Connor was hired by the association as a space and community activation coordinator. In this position he leverages his diverse educational experiences to curate sensory experiences, creating tailored systems that redefine everyday office life, adding a touch of uniqueness to the otherwise mundane, and building a benevolent culture.
Nolan HILDEBRAND — Merz Re [#1] (6:06 / 2022)
Merz Re [#1] uses recordings of performances of four original graphic scores from my Open Graphic Research Project as its main sonic material. As such, the work draws heavily from musique concrète practises, in which recorded sounds are used as the foundation of the music. The title and concept of the music was inspired by dada artist Kurt Schwitters and his concept of Merz. Specifically, I was intrigued by his Merzbau, a type of sculptural installation work that was built on and into different houses where Schwitters and his family resided throughout their lives. Merz Re [#1] is also heavily inspired by Japanese noise artist Masami Akita who performs under the moniker Merzbow. The name Merzbow reflects Akita's Dadaist influence and junk æsthetic, characterized by the use of homemade instruments and analogue equipment such as guitar pedals and no-input mixers. Like Schwitters, I will continue to use recordings from my Open Graphic Score Research Project as material for future compositions and carry around the recordings, just as Schwitters carried around the Merzbau.
Nolan Hildebrand is a composer, researcher, and noise artist based in Toronto. Nolan's musical practices and æsthetics are centred around noise and maximal. Through noise, Nolan explores conceptual and physical extremities to create intense and engaging music. His compositional output spans contemporary classical, electroacoustic and acousmatic music. Nolan performs, records and releases music under his experimental solo noise project, BLACK GALAXIE. Nolan has had his music performed in Canada, the USA, Germany and Switzerland, and has worked with the Winnipeg Symphony Orchestra, ECM+ Ensemble, XelmYa Ensembl, among others. Nolan has presented his music and research at the Anestis Logothetis Centenary Symposium (Athens, Greece), the CeReNeM Composers' Colloquia (Huddersfield, UK), and the Korean Electro-Acoustic Music Society's Annual Conference (Seoul). He is currently pursuing a DMA in composition at the University of Toronto.
Dominic JASMIN — Grandes recherches musicales (13:07 / 2023)
Grandes recherches musicales is the result of an exploration in digital synthesis. A single digital source is developed into multiple layers of sound. The end result is reminiscent of late 1970s GRM.
Dominic Jasmin is a young composer and improviser from Montréal. He explores the duality of fixed media and spontaneous composition, looking to bridge the perceived æsthetic gaps between both practices. His music is based on musique concrète techniques like looping, sampling and effects used in a freely improvised setting to create complex layers of sound which are articulated in response to one another in real time, as free improvisers respond to the other musicians they are playing with.
Jean-Philippe JULLIN — Érel (18:19 / 2023)
Érel is a collaborative sound performance with my computer. Unsupervised learning algorithms organize my sound banks into mapped spaces, creating links according to different forms of artificial perception. They allow me to explore the æsthetic relationships of these sounds according to timbral and spatial axes while learning from my musical tendencies during the performance. A kind of relationship develops between me and the system through this interaction, in the hope of achieving a deeper understanding of myself.
Born in Marseille (France), Jean-Philippe Jullin is a student in digital music at the Université de Montréal. Holder of a DEC in audiovisual technique, it is through his work in the field of video that his language has been shaped, mixing elements of music, video art and programming. Passionate about sound experimentation, he seeks a different way of thinking about music. His creations aspire to establish a dialogue between man and machine, allowing him to approach a multiplicity of techniques and senses. Recipient of the Faculty of Music's excellence grant, he released an acousmatic EP in 2020 entitled nioses, broadcast on Radio Québec International. To conceive experiences of active contemplation, various elements are assembled to question our perception of space and time.
Mathieu LACROIX — Stadig fjernare, bort. Fjernare og stadig nærmere [Live] (17:47 / 2020)
This work, for horn and electronics, is inspired by the work of Norwegian author Jon Fosse, which ranges from poetry to plays. Indeed, the title of the piece is taken from the title of one of his poems, however, due to the author's rather idiomatic use of Nynorsk, it defies a suitable translation into English. Fosse's work manages to say so much through so few words. There may often be incredible tension, even though there is no action, and the tension is never specifically expressed. As an immigrant who has lived in Norway for ten years now, his work seems very Norwegian to me.
Stadig fjernare, bort. Fjernare og stadig nærmerewas commissioned by Montréal-based horn player Gabriel Trottier. An ambisonics format is used for performances; this version is a stereo recording of a live performance.
Mathieu Lacroix is a French-Canadian composer working in Norway. He has studied and/or worked with composers such as Natasha Barrett, Hans Tutschku, Kaija Saariaho, Jaime Reis, Markus Reuter and others. He studied at NTNU (Norges teknisk-naturvitenskapelige universitet) in Norway, IRCAM (France) and Musiques & Recherches (Belgium). He has been invited to festivals such as Mixtur, Meta.Morf and Manifeste. His music is performed around the world. He is artistic co-director of Electroacoustic Trondheim (EA-T) and a member of the Electric Audio Unit with Natasha Barrett and Ernst van der Loo. In 2021, he completed a PhD thesis on synchronization strategies in mixed music. His music aims to make electronics and acoustic performers react to each other and interpret music together as a living ecosystem. He is an associate professor in composition and music production at Inland Norway University of Applied Sciences.
sylvi MACCORMAC — Brother Bear & Bent Boxes: Russell Wallace, an echoacoustic portrait of Qekiyeksut (27:40 / 2023)
I am honoured to be given permission to compose An EchoAcoustic Portrait of Russell Wallace, awarded Stat'liamX composer and producer, traditional Lil'wat singer and inDigiPop musician, with excerpts from 20 tracks produced over 40 years. Is it electroacoustic or echoacoustic?
sylvi macCormac began composing WHEELS Soundscapes: Voices of People with Disabilities at VAMS in 1998. She received an international Honourable Mention in France in 1999 for the composition Waves of Kokoro, screened the documentary Patience & Absurdity in London during the 2012 Paralympics, co-produced The Feather songbook and CD with Dave Symington at VAMS in 2016, and acted in the Canadian feature film Bella Ciao! 2018 and CBS series Charmed in 2021. With the assistance of VAMS Engineer Bryden Veinot, in 2023 macCormac released Brother Bear & Bent Boxes: Russell Wallace, an echoacoustic portrait of Qeksiyeksut.
Jérémie MARTINEAU — Meditations on a Sunday (10:50 / 2023)
Meditations on a Sunday is an acousmatic performance for five headsets, in which certain members of the audience are invited to interpret the work using their breath, which is linked to different sonic and spatial parameters. The piece is part of Weekly Meditations, a cycle of seven audiovisual works for mixed and electronic ensembles. Inspired by Pauline Oliveros' "deep listening" practices, the cycle is an invitation to practise more regularly a certain form of mindfulness and appreciation of the world around us, through meditative exercises integrated within the compositional and interpretative process. Meditations on a Sunday sonifies the birth of a star with sound recordings of saxophones and cello, played by Guy Lavoie and Clara Ducos, respectively. The work focuses on the different ways of influencing the breath of the spectator and, in this case, the performer.
Jérémie Martineau is an audiovisual artist and researcher based in Montréal. His work develops a multidisciplinary approach, bringing together digital art and concert music while favouring the integration of acoustic, electronic, visual, spatial and scenographic dimensions in order to create an integrated whole. Following a desire to reform the concert experience, his compositional approach is based on immersion of both the spectator and the performer, but also within the compositional process itself. This immersive experience is achieved not only through the performers and the sounds produced, but through everything that is to be seen and felt. His work and research, co-directed by Jimmie LeBlanc and Myriam Boucher, have been presented notably at the University of Montréal, the Montréal Symphony House and the University of Greenwich. He won Third Prize in JTTP 2022, produced by the Canadian Electroacoustic Community (CEC), for his work Distractions, Horizons.
Gaël MORICEAU — Singularité (10:30 / 2022)
A singularity is a region of space-time where current laws of physics don't apply. Its infinite density and gravity irremediably attract any celestial body. Multiple cosmic spaces will converge towards this peculiar point, either colliding or merging. Various shapes of odd astral objects, sparkling and flickering matters vainly try to escape the inexorable attraction of this gravitational node and are ultimately absorbed by it.
Originally composed for a 16-loudspeaker dome, Singularitéwas remixed in stereo format.
After working for several years in engineering and science, Gaël Moriceau decided to change career in 2019. Passionate about sound design and electroacoustic music composition, he is currently pursuing a bachelor's degree in Digital Music at Université de Montréal. Although his music output thus far is predominantly acousmatic, he is interested in designing new digital music instruments.
Kristian NORTH — Remiges (6:19 / 2023)
Remiges (flight feathers) is a soundscape composition centred around the haptic wing sounds of birds. It is inspired by a personal experience that took place on a hike in the Antioquia department of Colombia.
Kristian North is a musician and composer who lives and works in Tio'tia:ke / Montréal. His practice is informed by a fascination with philosophy, systems and perception. Recent works include multi-channel soundscape compositions, audiovisual performances, generative music and digital ecosystems. He is currently finishing his degree in electroacoustic composition at Concordia University.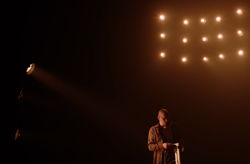 Pauline PATIE PELICAUT — Run (video — 12:00 / 2022)
Despite its simple, minimalist appearance, the Tu-Yo is an instrument that conceals a million expressive possibilities in terms of tone, intensity and range. In Run, I tried to plunge the performer into a state of escape and explore the interaction between the performer, the instrument and the tape, in a game of exchange where the unpredictable meets the expressive. My aim was to foster the interrelation between the performer (Jean-François Laporte), the instrument and the tape, by creating a temporal framework defined by a score free enough to support and accompany the performer as a playing partner. The sounds on the tape were created from recordings I took of the instrument and processed, so as to shape the desired energies for exploring the different timbres of the Tu-Yo. The instrument also benefits from real-time sound processing during the performance.
Pauline Patie Pelicaut is a French composer of electroacoustic music. Now based in Montréal, she is completing a master's degree in digital music at Université de Montréal. Her work has been awarded the Marcelle-Deschênes 2021 Prize (Université de Montréal), and in 2022 she received honorary mentions in the international electroacoustic competitions Musica Nova (Prague) and Destellos Foundation (Argentina). Interested in the trance effect, her creations explore the association of discomfort and appeasement for the listener. Thus, she questions the mysterious reactivity of the body to immersion and its causality.
Kasey POCIUS — Waiting on the Storm to Break the Heat (7:46 / 2023)
Weaving together field recordings taken during heat waves in Montréal and Cheltenham, and synthesizer improvisations recorded while processing the breakdown of a romantic relationship, Waiting on the Storm to Break the Heat explores the dread and calm before the catastrophic, and the relief found thereafter. Through intermodulation of the synthesized elements and transformations of both materials, the summer storm depends on the heat and provides momentary relief, allowing the listener to find new balance in the aftermath.
Originally from St. John's (Newfoundland), audio artist Kasey Pocius grew up experimenting with audio editing and MIDI sequencing software while also pursing classical training in both viola and piano. In late 2014, Kasey began to concentrate more intensively on the creation of digital audio works. Initially, the focus of this work was on more traditional tone-based works, but this has since quickly been realigned toward the pursuit of electroacoustic composition, notably through entering the Electroacoustic Studies programme at Concordia University (Montréal).
Thomas QUIRION — Anthropomorphic Arthropoda (19:30 / 2021, rev. 2023)
Anthropomorphic Arthropoda is an acousmatic composition created in autumn 2021 and revised in the spring of 2023 for multi-channel diffusion. The very beginnings of the Earth are told from the perspective of arthropods that, apart from primitive microorganisms and flora, represent some of the first living (and conscious) beings to interact with the ground on which we stand. From a compositional point of view, the combination of analogue modular synthesis and granulation of the human voice allows for the exploration of metamorphic transformations and the concepts surrounding the movement that an exoskeleton exhibits. Its structural integrity, in relation to the subsistence of arthropods, is crucial. A unique sound world to discover that relates to the fragility of the different stages and cycles of Life.
Thomas Quirion is a composer of electroacoustic and instrumental pieces, and an electronic music producer. He holds a bachelor's degree in electroacoustic studies with a specialization in creative practices from Concordia University (Montréal), where he gained additional experience in studio and live recording. Through his compositional work, he balances sonic experimentation with rhythmic and tonal conciseness, whether in traditional instrumental polyphony, in new musics or in his work with computers. In the latter, he incorporates techniques of granulation, wavetable synthesis, analogue modular synthesis and creation by digital audio samples. In his tonal and mixed music work, he explores rhythmic juxtaposition, the limits of polyphony, counterpoint and the use of extended techniques for string and wind instruments. He has worked on various projects collaborating with filmmakers, dancers, musicians, engineers, computer scientists and meteorologists.
George RAHI — edge roaming (3:53 / 2022)
edge roaming is part of a series of experimental compositions which merge the vibrant material and ethereal space of the pipe organ and the techniques of electronic and generative music. Viewing the pipe organ as both a "traditional" and "radical" instrument capable of constructing new sound worlds, the project extends the instrument towards an emerging digital culture using custom digital interfaces that allow real-time manipulation of all organ pipes and stops. With a reflexive attention to the organ's context and harmonic design, the project incorporates site-specific elements such as the organ's architecture and acoustics, using controlled feedback systems and machine listening to consider the resonant relationships between the instrument and its surrounding space as recursive and generative elements interwoven into the performance. Through this process of hybridizing acoustic and digital approaches, the project explores new possibilities for the world's oldest mechanical synthesizer.
George Rahi is a composer, sound artist and instrument maker exploring new hybrids between the acoustic, electronic, mechanical and sculptural. He commonly works across a diverse array of interests including electroacoustic music, robotics and large-scale instruments such as the pipe organ and the Indonesian Gamelan. He has produced work for the Western Front, Vancouver New Music, Miscellaneous Productions, VIVO Media Arts Centre and Vancouver Co-op Radio's Media Arts Committee. He is a founding member of the percussion ensemble Gamelan Bike Bike and art collective Publik Secrets, and in 2023 undertook a residence at the Hadden Park Field House, unceded Musqueam, Squamish and Tsleil-Waututh territories, in Vancouver (Canada).
Audrey REICH — Tidal (4:12 / 2023)
Tidal was created using a series of sounds I recorded, with a field recording of waves I took from Jericho Beach in Vancouver serving as a backbone to the piece.
Audrey Reich is a multidisciplinary artist from Seattle, Washington. She is currently pursuing a BA in Cognitive Systems at the University of British Columbia with a minor in Applied Music Technology. She has studied various instruments since she was a child and became interested in electroacoustic music in 2022. Her interests include the relationships between the physical and the digital and interactive performance.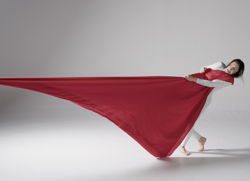 Parisa SABET SARVESTANI — Silent (video — 8:00 / 2022)
Silent is a multimedia composition for clarinet, cello, piano, soprano, tenor, audio playback, dance and visuals commissioned by Toronto's Charsu Quartet. This media-music-performance work is inspired by "The Wind-up Doll", a poem by the influential Iranian poet, Forugh Farokhzad (1934–1967).
Imagination, innovation and storytelling are at the centre of Parisa Sabet Sarvestani's creative practice. With a musical language that is equally modern and accessible, inspired by her Iranian roots, Western education and passion for socially engaged arts, she aims to engage in cultural dialogue with diverse communities. Her sonic landscapes evoke emotions, conjure images and tell stories, often about pressing social issues. Her most recent interdisciplinary work, Silent, was inspired by the Black Lives Matter movement in Toronto. Sabet earned a Doctor of Musical Arts, a Master of Music in composition and a Master of Music Technology and Digital Media from the University of Toronto, with distinctions including the Mirkopoulos and Miller/Khoshkish fellowships, and the Tecumesh Sherman Rogers Graduating Award, the latter given to a musician on the cusp of making important contributions to the field. Among her teachers she counts Christos Hatzis, Keith Tedman, Kyong Mee Choi, Ka Nin Chan and Stacy Garrop.
Sarah STEPHENSON — Mindlessness (3:25 / 2022)
Mindlessness uses audio from a guided meditation called "Leaves on a Stream". Therapists use this exercise to ground their patients and lower their anxiety. The work takes the perspective of an anxious person listening to the meditation and depicts the strange places to which meditation can take us.
Sarah Stephenson is a fourth-year University of British Columbia music student specializing in voice. She plans to attain a minor in music technology and enter a career in music education.
Eora UMEMURA — Retrospective Feedback (3:39 / 2022)
Retrospective Feedback uses various retro sounds including an old voice synthesizer. Using time stretching, pitch shifting and edited audio files, it creates a retro yet modern sound.
Eora Umemura is a Japanese-Canadian composer and musician living on the north side of Vancouver Island in British Columbia (Canada). He has studied classical piano since the early 2010s and has studied blues and jazz guitar since 2019. His compositional output reflects an interest in knowledge about what kinds of sounds create certain emotions. Eora specializes in film and video game music where he expresses his appreciation in beauty and music with visuals. Although his work shows a stylistic penchant for orchestral writing, Eora also writes in blues, rock and classical idioms and enjoys writing for any genre in which a visual component is present. His composing abilities have been recognized by his peers and by his teachers.
Georgios VAROUTSOS — Covid-19 Sound Stories (36:00 / 2022)
Northern Ireland faced unprecedented challenges during the Covid-19 pandemic. Multiple lockdowns and strict public measures were implemented to protect the health and safety of the community. To gain insight into the perspectives of students in Northern Ireland, a set of questions was asked to capture their thoughts and feelings on the impact of the pandemic and the changes they have experienced. These questions also explored the powerful connection between sound and memory, highlighting how individuals relate to their environment and how sounds evoke memories of significant moments. The composer's Sounding Covid-19 Repository, compiled during various lockdowns, is woven into the composition, which is then used to formulate the reflections of oneself and others.
Georgios Varoutsos is a sonic artist from Montréal, Canada. He is currently completing his PhD studies in Music at the Sonic Arts Research Centre (SARC) at Queen's University Belfast (Northern Ireland). He has graduated with a master's in Research, Pass with Distinction, in Arts & Humanities — Focus in Sonic Arts at Queen's University Belfast. He has also completed a BFA with Distinction in Electroacoustic Studies and a BA in Anthropology, both from Concordia University in Montréal. He explores the field of sound through an extensive range of projects and performances. His audio creations derive from different inspirations such as field recordings, digital recordings, amplified sound materials, audio processing, synthesis and experimental techniques. Georgios is merging his various backgrounds of study into research projects comprising immersive audio, sonification, urban arts, sonic arts and socially engaged arts. This has been presented by using sound as a platform for cultural storytelling.

Willyn WHITING — Framework II (video — 10:02 / 2021)
Framework II is composed of simple electronic sounds, created by waveguide opcodes in Csound and executed by a string of code. The piece is organized into nine overlapping sections of varying length which gradually fade in and out of view. Musical events are designed to unfold in a through-composed manner and with little structural hierarchy. It is the second in a series of works by the composer for varying instrumentation.
Willyn Whiting is a Canadian composer of concert music who is currently pursuing a PhD in music at the University of North Texas. His works have been performed and read by such ensembles such as the Bozzini Quartet, Vaso String Quartet, NOVA Ensemble and Ensemble Atlantica. His music has been presented at SEAMUS, ICA Clarinetfest and Groundswell Linked, among other festivals and workshops. Willyn's acoustic works since 2017 have explored spectral techniques and simple algorithmic designs. His electroacoustic pieces have explored improvisation, generative scoring, audiovisual design and interdisciplinary collaboration.
Lydia XU — A Walk (4:14 / 2022)
A blend of MIDI instruments and audio recordings were used to create A Walk. A lot of the audio samples I recorded were when I was cooking and cleaning the house with my roommates. I then used different sound processing techniques and effects such as granular synthesis and delays to manipulate them. This created some interesting sounds such as when I layered the sound of a vacuum, running water and a bass drone for something that sounded more impactful.
Lydia Xu was born in Hong Kong and is currently an undergraduate student at the University of British Columbia (Vancouver, Canada). Though studying for a Psychology degree, her passion for music motivated her to pursue a minor in applied music technology. This passion started from growing up learning piano, then playing the soprano saxophone in her school orchestra and jazz band. Through a course at university, she was introduced to electroacoustic music and found that she enjoyed experimenting with different sounds. She now aims to keep improving, experimenting and creating.