JTTP 2021
22nd Jeu de temps / Times Play
Results | Artists and Submissions | Events | Awards | Jury
Recent works by young and/or emerging electroacoustic artists from or living in Canada are celebrated in JTTP 2021, the 22nd edition of Jeu de temps / Times Play coordinated by the CEC.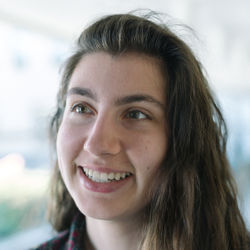 Jeu de temps / Times Play (JTTP) is an annual project aimed at supporting and encouraging new works by young and/or emerging electroacoustic artists from or living in Canada. A diverse international jury adjudicates and selects the prize-winning works and award recipients. For each edition of the project, a series of events are coordinated featuring selected JTTP works, including radio broadcasts of JTTP submissions and performances of the selected works in concert by our Project Partners in Canada and abroad. Cash and prizes are awarded to the creators of the top-placing works and the thematic award recipients, and all submissions are featured on these pages and in Sonus, the CEC's online Jukebox for electroacoustic and related practices.
The following works have been selected by the international jury. Visit this page for biographical information on the artists and programme notes for their selected works. 1[1. Also check out the JTTP 2021 Photo Album on the CEC's Facebook page for images of the prizewinners and award recipients, as well as pictures taken at events where JTTP 2021 works were presented.]
Prizewinners
Thematic Award Recipients
The Hildegard Westerkamp Award for soundscape and sound installation
The Micheline Coulombe Saint-Marcoux Award for self-identified female or non-binary electroacoustic artists
The Jean Piché Award for videomusic, new media and creative coding
The Martin Gotfrit and Martin Bartlett Award for live electroacoustic practices
A total of 50 recent works by 52 electroacoustic artists living in Canada, Germany, Norway and the UK were submitted to JTTP 2021. Here you can read the programme notes and artist bios for all submissions or just sit back and enjoy the pieces — acousmatic and videomusic works, and more!
Over the course of 2021–22, a series of events feature the selected works from JTTP 2021. Visit this page for information about upcoming broadcasts and concert presentations in Canada and around the world.
Each year a broad range Project Partners from Canada and around the world offer a generous amount of support that is essential to the success of JTTP. With their donations and support, the CEC is able to offer prizes to recognize the selected works each year.
Jury
This year's international jury was comprised of 11 individuals with a variety of artistic backgrounds, experiences and interests: artists and performers, people working in radio, concert production and arts service organizations, educators and selected artists from past editions of JTTP.
James Andean (CEC, De Montfort University)
Myriam Boucher (CEC, Université de Montréal)
Simon Chioini (Independent)
Nicola Giannini (Université de Montréal, CIRMMT)
Cat Hope (Monash University)
Julie Matson (CEC)
Shawn Pinchbeck (CEC, BEAMS)
Laurie Radford (University of Calgary)
Jaime Reis (Escola Superior de Música de Lisboa, Festival DME)
Margaret Schedel (Stony Brook University)
Roxanne Turcotte (Independent)